SUPPORTING YOUR PATIENTS ... ONE PERSON AT A TIME
Patient Resource Navigator combines leading-edge software with personalized patient education. Unique, individual content specific to diagnosis, staging and treatment plan, is delivered in both print materials and through a personal mobile app.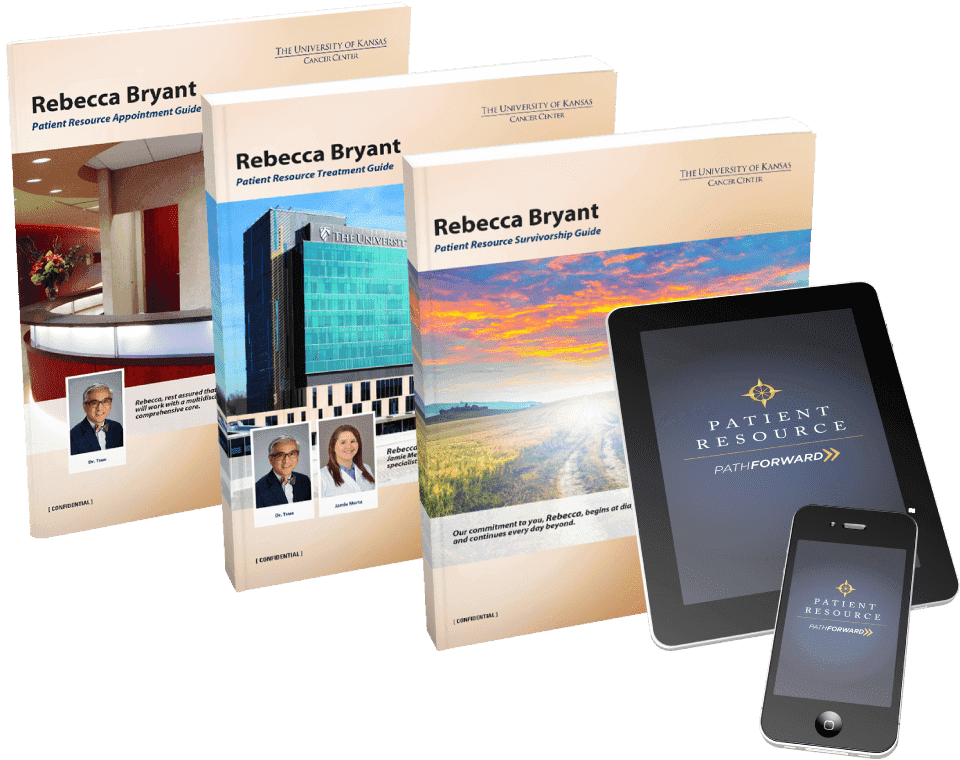 Guides are designed to increase first appointment productivity, decrease cancellations and assist in retention/conversion into treatment. Metrics show that through receiving these guides, patients gain trust and feel individually cared for by their center. This easy-to-use platform integrates seamlessly with your EMR.
Powerful administrative reporting and cost analysis tools are at your fingertips. Implement process standardization for all clinics through this first-of-its-kind software.
PERSONALIZED GUIDES & APP FEATURES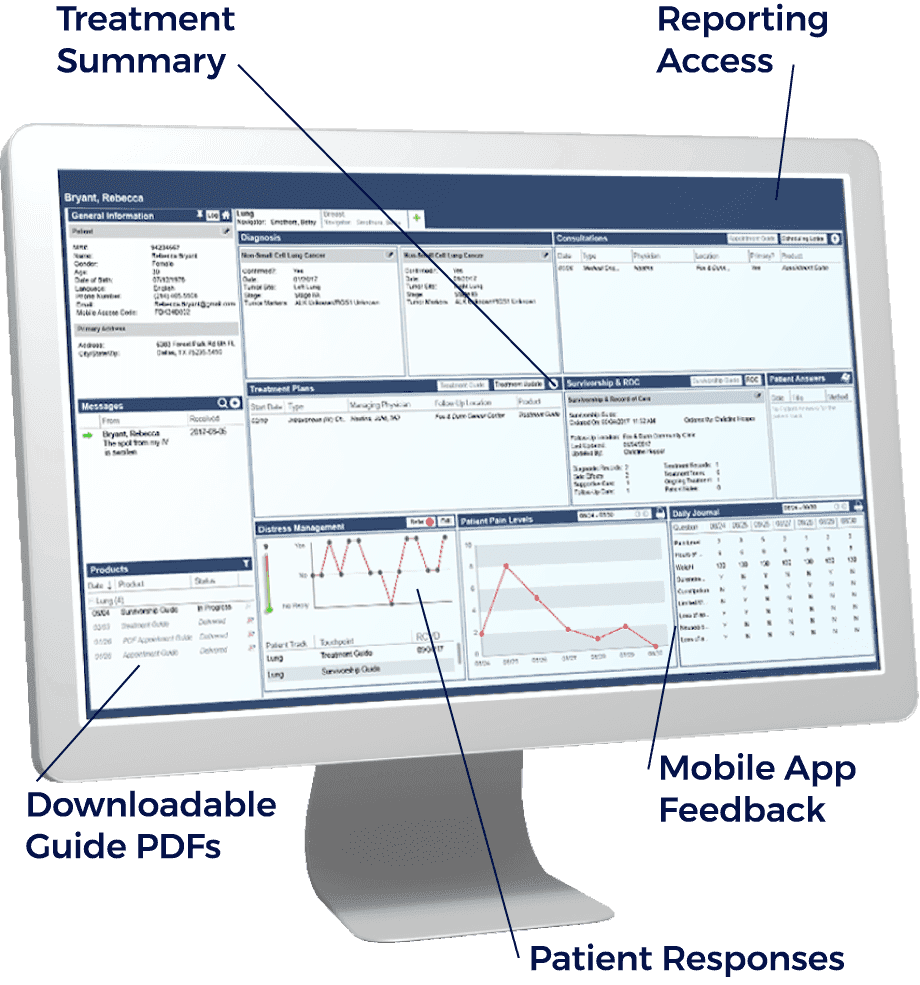 PLATFORM FEATURES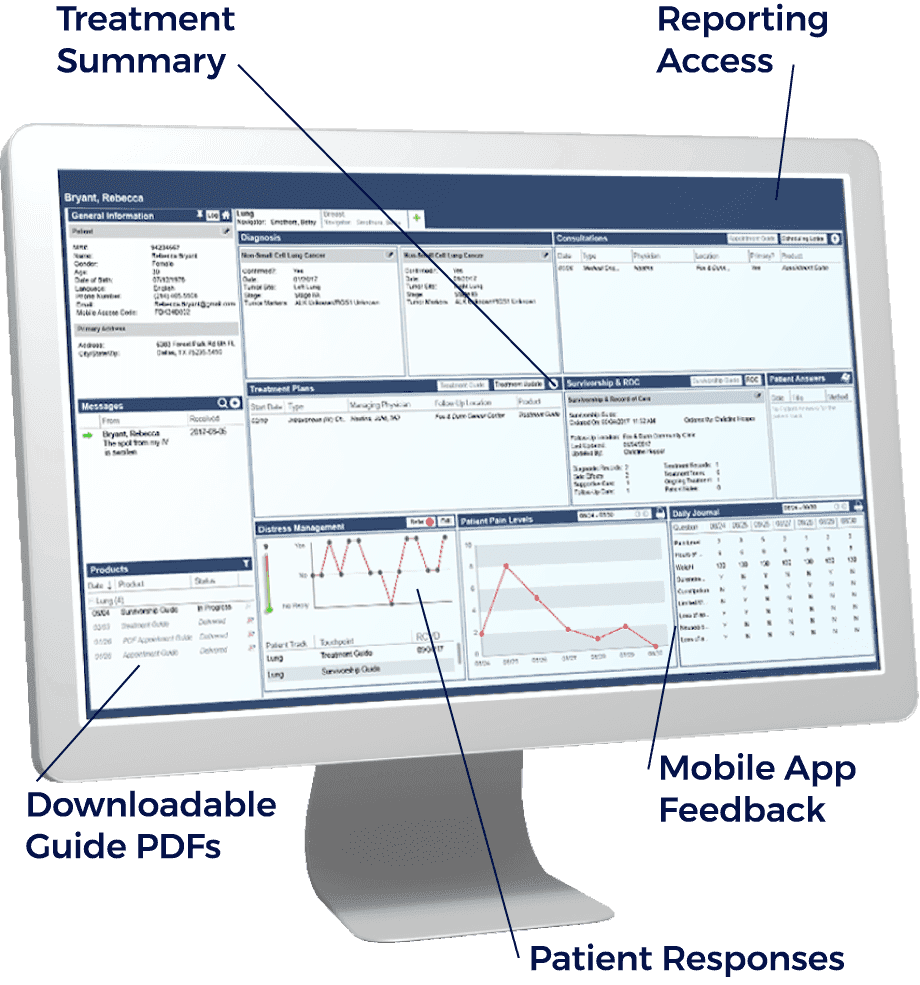 REPORTS: Provides data on demand including geographical outline of patients, demographics, diagnoses, treatments and touchpoints
TREATMENT SUMMARY: Assembles record of care seamlessly throughout continuum of care
GUIDES: Ship same day if ordered by noon
ARCHIVES: PDFs of each patient touchpoint
PATIENT SATISFACTION
94% Comprehensive and easy to read
86% Assists in following doctor's treatment plan
85% Built trust and confidence in cancer center and medical team
Patient satisfaction figures and comments from 56,526 people surveyed between July 2015 - December 2019.
HERE'S WHAT PEOPLE ARE SAYING ...
"I refer to the guides often and they are a great source of information."
"Based on this guide alone, if I had a friend with cancer, I'd recommend they come here so they would get this educational piece."
"Beautifully and personally done. Certainly helps put peoples' minds at rest."
"Based on this guide alone, if I had a friend with cancer, I'd recommend they come here so they would get this educational piece."
"Beautifully and personally done. Certainly helps put peoples' minds at rest."
"The guides are a reflection of the people and the center. I read all of each guide and refer to them often."
"Beautifully and personally done. Certainly helps put peoples' minds at rest."
"The guides are a reflection of the people and the center. I read all of each guide and refer to them often."
"I have literally sent photos of the personalized guide to my friends and family members gloating about how awesome it was and how much I recommend my center."
"The guides are a reflection of the people and the center. I read all of each guide and refer to them often."
"I have literally sent photos of the personalized guide to my friends and family members gloating about how awesome it was and how much I recommend my center."
"Guide provided information that helped me maintain a very positive attitude during all phases of my treatment & recovery."
"I have literally sent photos of the personalized guide to my friends and family members gloating about how awesome it was and how much I recommend my center."
"Guide provided information that helped me maintain a very positive attitude during all phases of my treatment & recovery."
"Helpful, comprehensive, detailed, professional and personalized."
"Guide provided information that helped me maintain a very positive attitude during all phases of my treatment & recovery."
"Helpful, comprehensive, detailed, professional and personalized."
"I am the spouse/caregiver - the guide is extremely beneficial. It saved me lots of worry when situations arose. I knew what to reference for solutions."
"Helpful, comprehensive, detailed, professional and personalized."
"I am the spouse/caregiver - the guide is extremely beneficial. It saved me lots of worry when situations arose. I knew what to reference for solutions."
"It lowered my anxiety level significantly."
"I am the spouse/caregiver - the guide is extremely beneficial. It saved me lots of worry when situations arose. I knew what to reference for solutions."
"It lowered my anxiety level significantly."
"Superb personalized, educational guides."
"It lowered my anxiety level significantly."
"Superb personalized, educational guides."
"A nice personal touch - when you see your name in print - it makes the patient feel they are important."
"Superb personalized, educational guides."
"A nice personal touch - when you see your name in print - it makes the patient feel they are important."
"Guides have given me trust and confidence in my treatment team and cancer center."
"A nice personal touch - when you see your name in print - it makes the patient feel they are important."
"Guides have given me trust and confidence in my treatment team and cancer center."
"When I first received the personalized guide – that was powerful!"
"Guides have given me trust and confidence in my treatment team and cancer center."
"When I first received the personalized guide – that was powerful!"
"Helped me feel like I could control at least a part of what was mostly out of my control."
"When I first received the personalized guide – that was powerful!"
"Helped me feel like I could control at least a part of what was mostly out of my control."
"Made me feel like someone took the time to see the experience through the eyes of a patient."
"Helped me feel like I could control at least a part of what was mostly out of my control."
"Made me feel like someone took the time to see the experience through the eyes of a patient."
"I refer to the guides often and they are a great source of information."
"Made me feel like someone took the time to see the experience through the eyes of a patient."
"I refer to the guides often and they are a great source of information."
"Based on this guide alone, if I had a friend with cancer, I'd recommend they come here so they would get this educational piece."